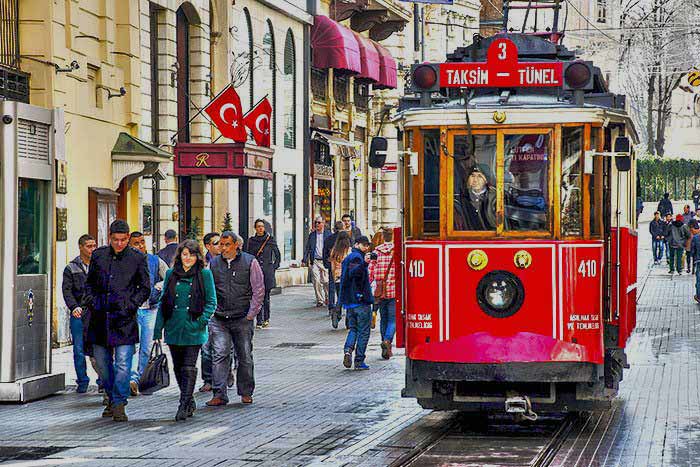 The busiest street of Istanbul – Customized Istanbul Tours
A walk on Istiklal Street during customized Istanbul tours, means time spent nicely. Just like to be in Ephesus with Ephesus tour guide, or anywhere in Turkey. Valuable time is guaranteed. Istiklal Caddesi (Independence Avenue) is the heart of Beyoglu, the more modern district of Istanbul built during the 19th century.
The city's most popular strolling, shopping and snacking street. It is now reserved for pedestrians, lined with boutiques, cafes, consulates, restaurants, galleries, cinemas and banks. That means you have many places to see here in your daily Istanbul tour. When 19th-century travellers spoke of Constantinople (Istanbul) as the Paris of the East, they were thinking of the Grande Rue de Pera (Istiklal Caddesi). Also, of its half-European, half-Asian culture. The avenue begins at Taksim Square, the hub of modern Istanbul.
Nostalgic Istiklal Caddesi tramway cars rattle and clank along Istiklal Caddesi from Taksim Square to Tunel Square. Just as they did in the 19th-century heyday of this Europeanized corner of the Ottoman sultan's domains.
Halfway along the avenue
Halfway along the avenue toward the south west is Galatasaray Square, easily recognizable by the grand gates to Galatasaray Lisesi, the first European-style lycée (high school) erected by the Ottoman government daily istanbul tour.
At the far south western end of Istiklal Caddesi is Tunel Square, site of the upper station of 19th-century Beyoglu's little two-station underground train, the Tunel, and southern terminus of the nostalgic Istiklal Caddesi tram.
Contact me to join customized Istanbul tours in the daytime for shopping. In the evening for strolling, people-watching, supper in one of the many restaurants. Let`s have a drink in a cafe or bar, and some music in a little nightspot customized istanbul tours.