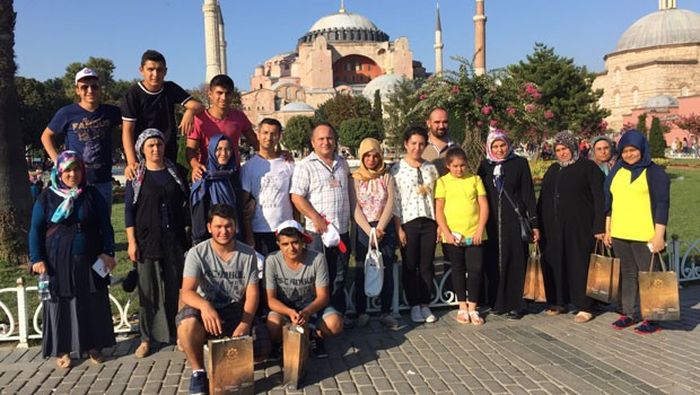 City Tours Istanbul – Istanbul dream of children from Soma became true
They are the children of Turkey. They are our children. As children, especially ones whose fathers are the miners from Soma, who we lost, they deserve to know that they are not alone. They also need to know that there are people, who like to be their friends and people, who like to help them. Istanbul custom tours means tours tailor made for a person or a group of people. That kind of tour was made for these sweet, curious children. On their two-day tor they saw the Maiden's Tower, went on a Bosphorus boat trip. The grandness of the Topkapi palace captivated them all. They also prayed in Blue Mosque in their City Tours Istanbul. And many other places of interest as well as they felt the love of many people.Hurriyet newspaper wanted to be the first friend to offer a hand to the children and their mothers. It started the initiative 'Soma Has Dreams' for the Soma children of miners who we lost. The dream of 30 children 'to see Istanbul' became true private tour guide istanbul.
Famous actors and Bosphorus for children in city tours Istanbul
The famously beautiful stretch of water, the Persona of Istanbul, a beautiful female who stays charming, inspirational and full of surprises (just like the children), made these little creatures experience the meaning of the Turkish word 'keyif'. Did you guess who that 'female' is? Yes, correct – the Bosphorus. The children watched the Bosphorus. They enjoyed it from Cemil Sultan Woods. Then they got introduced to modern art in Perili Kosk (meaning 'Haunted Mansion' in Turkish), explored the fish kingdom and watched the world from the Moon. Also, they examined old cars, boats, submarines, locomotives, airplanes, doll houses, toys in city tours Istanbul city tours istanbul.
They talked a lot to Sevket Coruh (Mesud Guneri) – the commissar from the Turkish series 'Back Streets', and the author of 'The Story of Cherry Season', Ozge Gurel. They took lots of pictures with the actors – Salih Bademci, Onur Buyuktopcu, Levent Ulgen ve Nergis Kumbasar, from another TV series, 'Kiralik Ask' ('Love for Rent').