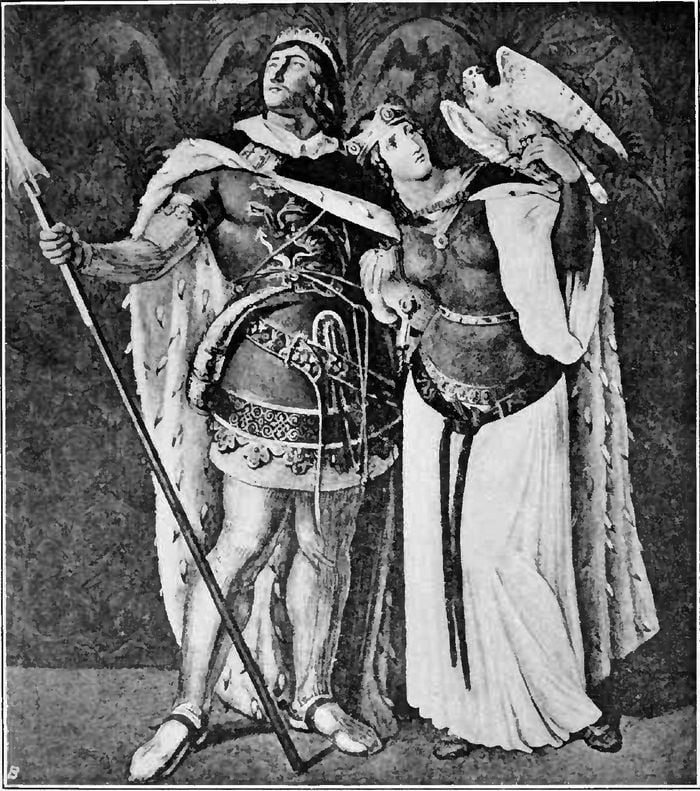 Anonymous: End of 12th Century
The unknown writer of the Nibelungenlied, or Lay of the Nibelungs, was an Austrian. Nothing is known of him except that he wrote his celebrated ballad epic toward the end of the Twelfth Century.
Rediscovered toward the end of the Eighteenth Century, the Lay is, in the words of Prof. Calvin Thomas, "a powerful poem and a human document of many sided interest." The component episodes are related with great vivacity, and the characters developed by means of a powerful imagination. The Lay was founded upon earlier versions of various legends, traditions, and songs that were current in pre-Christian times. Many of the same stories are found in the two Icelandic Eddas and in the Volsunga Saga.
The present version comprises two chapters, or "Adventures" (the fourth and fifth) of The Fall of the Nibelungs, translated by Margaret Armour, Everyman`s Library. Reprinted by permission of the publishers, J. M. Dent and Sons. There is no title in the original.
Siegfried And Kriemhild (From The Lay of the Nibelungs)
Now there were brought into Gunther`s land strange tidings by envoys sent from afar by foreign princes that hated him; and when they heard the message they were troubled. The kings were as I will tell you: Ludger of the Saxons, a high and mighty prince; and I budgets of Denmark, and many bold warriors with them.
These envoys, sent by his foemen, came into Gunther`s land, and the strangers, were asked their business, and brought before the king.
The king greeted them fair, and said, "I know not who hath sent you hither, and would hear it." So spake the good king, and they greatly feared his wrath.
"If thou wilt have our message, O king, we will tell it plain, and name thee the princes that have sent us. They are Ludgast and Ludger, and will come against thee into thy land. Thou art fallen in their displeasure, and we know that they bear thee bitter hate. They come hither with an armed force to Worms by the Rhine—they and their warriors. Wherefore be warned. Inside of twelve days they will ride.
If thou hast trusty friends, let it appear now; let them help thee to keep thy castles and thy country, for, or long, there will be smiting of helmets and shields here. Or wouldst thou treat with them, then declare it straightway, that thy foemen come not nigh thee to thy hurt, and that goodly knights perish not thereby."
"Tarry a while—ye shall have answer betimes—that I may bethink me," said the good king. "If I have true liegemen, I will not hide it from them, but will take counsel with them on this hard matter."
Heavy enough of his cheer was Gunther. He pondered the message secretly in his heart, and summoned Hagen, and others of his men, and sent to the court in haste for Gernot. His best knights drew round him, and he said, "Without cause, and with a mighty array, foemen come hither against us into our land."
Thereto answered Gernot, a hardy and bold warrior, "We shall hinder that with our swords. They only perish that fate dooms. Let them die. They shall not turn me from honor. Our foemen are welcome."
Spake Hagen of Trony then, "Methinketh that were unwise. Ludgast and Ludger are proud men withal, and we can hardly in so few days muster our men." Therefore the bold knight said, "Tell Siegfried."
They bade lodge the envoys in the town. Albeit they were his foemen, Gunther, the great king, commanded the folk to entreat them well— rightly he did so—till that he knew the friends that would stand by him.
Read More about Private Bulgaria tours Pirin